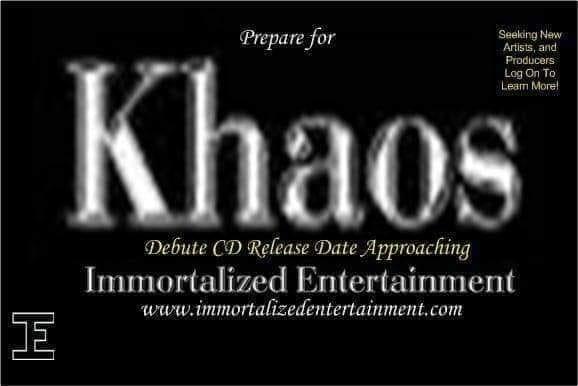 Video Shoot for Debut Single entitled Story Bout by Lyrical on 6-12-2021 in Atlanta, GA (Private Location)

"Representative of Urban Music Werks, and I have listened to your posted music and I LIKE!!"
Romelle Brown
"Yo what up...thanks for the love...music's hot......"
Devin Davis
"Keep doing your grind for I am feeling your work. Stay in touch when time allows,"
God Bless,
Subb-Z (Hip Hop Artist/Producer/Poet)
"Dope Muzik man!!!! .........."
Get @ me....
King Penn
"I'm diggin da tracks..........."
Flawless---Woodgrane
"Khaos What it do Fam we appreciate tha Networkin U got heat 4 sho....."
Silent Handz Entertainment
"Yo Khaos thanks 4 the request I like your work keep doing ya hustle boi Holla Back 1....."
Peace God Bless!!!
RAP ARTIST, KHAOS, PREPARES TO UNLEASH HIS FIRST SOLO RELEASE!....
www.twitter.com/KhaosOfficial @KhaosOfficial
IMMORTALIZED ENTERTAINMENT ENTERS THE WORLD OF TWITTER WITH UPCOMING FREE PROMOTIONS...
Twitter.com/ImmortalizedEnt @ImmortalizedEnt
Twitter.com/BehindClosedD @BehindClosedD

KHAOS JOINS THE FACEBOOK FAMILY WITH A RAPIDLY GROWING FAN BASE...

BehindClosedDoors.ImmortalizedEntertainment.com UNDER CONSTRUCTION

Khaos.ImmortalizedEntertainment.com UNDER CONSTRUCTION